First and foremost, creative people don't always operate on the same wavelength as your average Joe. If you've ever tried to talk to a creative person about timelines or requested a complete overhaul of their concept because it didn't align with your desired aesthetic, this won't surprise you. 
The creative process requires the right blend of inspiration, planning and feedback to be successful. Often described as "magic," you don't necessarily need to unravel the mysteries of the creative brain.
You just need to help us with the ingredients to concoct the witch's brew.
Art of collaboration is key
It takes a village to create a Statement of Work (SOW), craft a creative brief, do the "thing," get feedback, fix the "thing," get approval and publish the work. Phew! In all of those steps, it's in everyone's best interest to make sure the right stakeholders are involved from start to finish.
Even better if those stakeholders have a shared vision. Plus, knowing any guardrails ahead of time helps keep things on track. The sky's the limit for what we can create, but our brands often look for the treetops. Or sometimes the fence. See our handy dandy table (below) for some key information that prospective clients can — and should — come to the table having already discussed internally.
Onboarding + coming prepared = maximum efficiency
The onboarding process can be quick and painless. Save yourself from the dreaded 'uhhh' moments by thinking about this information before we meet. All of this information helps us with the Scope of Work (SOW), which must be completed and signed before we begin. This usually includes important information like cost, project timelines, milestones, etc.
Take a look at some common questions we ask our new clients: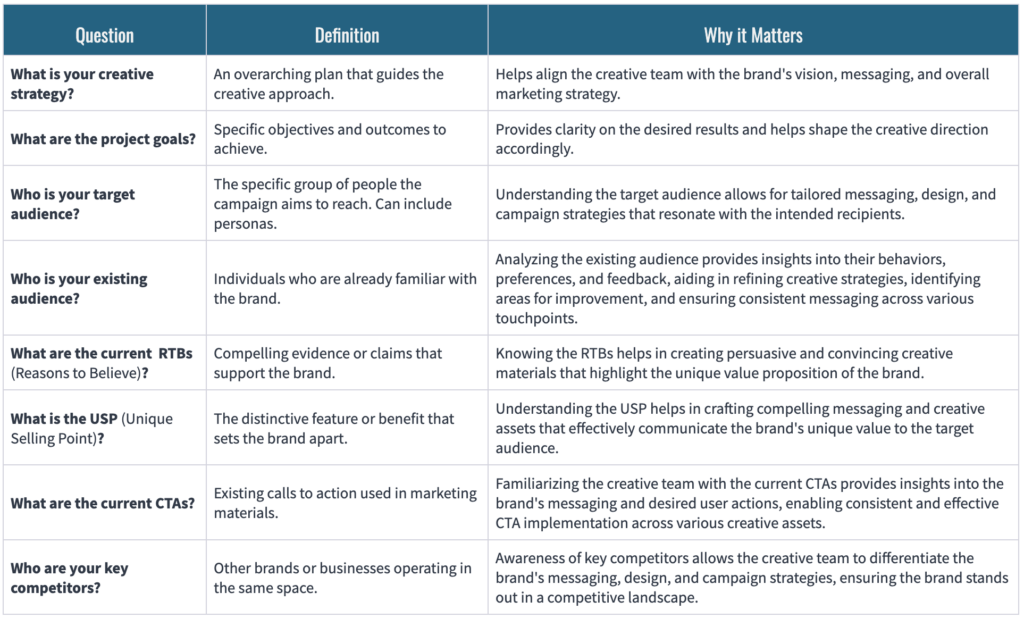 Once we've got all those questions squared away, we'll also ask you for some items. We need these before we dive headfirst into the creation process to ensure everything we do fits nicely into your branding.
Essential items:
Brand guidelines (tone, language, messaging style, logos, color schemes, fonts, etc.)

Logo and icon vector files (usually .svg, .ai, or .eps files)

Approved product or service photos and/or purchased stock imagery
Optional items:
Existing creative assets (previous campaigns, videos, design files)

Customer testimonials or success stories

Market research or consumer insights

Marketing collateral (brochures, flyers, datasheets, etc.)
Crafting the creative brief
The creative brief pulls together all the information we gathered from our onboarding process. We will take your desired audience, key messages, RTBs, CTAs and brand guidelines. Then, mix it all together, pop it into the oven, and serve while still warm.
The brief typically includes suggestions throughout the purchase funnel and at different complexity levels, depending on your needs and budget. We can promise one thing, though: creative that doesn't break the bank.
Some things we may suggest:
Revamping your existing static images with motion graphics

3D animation

Top of funnel, scalable video production
Communication is not a four letter word
So now you know what to expect technically from the onboarding process. But some of the most important parts of this partnership are what the tech people call "soft skills." We want to make sure you are sharing your vision and expectations up front and throughout the process so that we can create a project that we are proud of and you are happy with. Our secret sauce to a great partnership: fostering a culture of open, transparent and productive communication.
Communication (kuh-myoo-ni-kay-shun) [noun]
The art of accurately transmitting information, ideas, and feelings. A fine balance between clarity and cryptic messages (which often

require a decoder ring, a secret handshake or the innate ability to read minds).
Remember those stakeholders we mentioned earlier? They're great to have along for the ride, and sometimes we need them to be in meetings for communication purposes. However, having one designated person to communicate with our team, corral stakeholders, gather feedback and coordinate meetings is essential. They hold the key to streamlined communication and our undying gratitude for doing an exceptional job.
The client approval process ideally contains up to two rounds of feedback. This usually goes off without a hitch if we've worked out all the kinks in the planning phase. Remember that creative brief? Sometimes things come up or change, but the goal is for that to be the exception, not the rule.

Once our team of creators digs in, we often do a few rounds of internal reviews before we start bugging you for notes. We'll have regular check-ins to discuss project progress and inform you about deadlines. The faster we get your feedback, the easier it is to stick to our timelines and milestones. Way to go, Point of Contact!
Feedback that doesn't suck
Have you ever left a meeting thinking, "What on Earth is that person talking about?" If so, you'll understand why actionable feedback is so important. We could explain it, but these examples speak for themselves.
Good feedback:
"Nice design here. The imagery you chose aligns well with our target audience, and the overall layout is visually appealing and captures our brand's personality. One suggestion I have is to make the call-to-action button more prominent so it will stand out and grab attention. Also, let's explore adding some customer testimonials to build trust."
Not-so-good feedback:
"I don't like it. It just doesn't feel right."
Takeaway:
Good creative feedback provides specific comments and does two things: highlights what works well and offers constructive, tangible suggestions for improvement. Bad creative feedback lacks detail, doesn't provide clear guidance and leaves the creative team without actionable insights.
Good creative feedback provides specific comments and does two things: highlights what works well and offers constructive, tangible suggestions for improvement. Bad creative feedback lacks detail, doesn't provide clear guidance and leaves the creative team without actionable insights.
As we bid adieu, let's recap the secrets to a successful partnership with our creative team:
Prep for our first meeting

Gather your files

Pick your Point of Contact

Keep that communication open

Let us work some magic
Happy prepping, and we look forward to working with you.