The highly anticipated Google Marketing Live event occurred on Tuesday, 5/23. This annual event, celebrating its tenth anniversary, gains more prominence each year as Google shares its biggest announcements and plans for the upcoming year. 
As the main industry trend of 2023, AI (artificial intelligence) was at the forefront of the event. Google states that AI is foundational to Google Ads after helping in the background over the last several years. All of the product and feature updates, such as Performance Max and Smart Bidding, were framed through the AI lens.
As great as AI is, it needs the right inputs to show successful outcomes. Google's AI Essentials checklist highlights the actions advertisers should take, including:
Building the right foundation for measurement

Using the right data to feed the AI

Changing marketing mindsets to allow AI to run as powerfully as it can
AI is the future of Google Ads. As more levers are taken away from advertisers, the objective shouldn't be how to take back control. The goal is to give the system the most accurate data points, allowing automation and machine learning to work better. Advertisers and AI should work together to drive amazing client results and initiatives. As stated during the event, marketers aren't competing with AI but with other marketers using AI.
With this notion of how advertisers and Google can best work together, let's review the major Google Marketing Live announcements. A full breakdown of the discussed themes and announcements can be found here.
Google Ads Conversational Experience
Advertisers strive to create great Search campaigns with the right structure, keywords, assets and messaging. They review resources such as the website, client feedback and industry jargon. Add AI to the list of resources. Advertisers can describe their product and landing page to prompt Google for suggestions.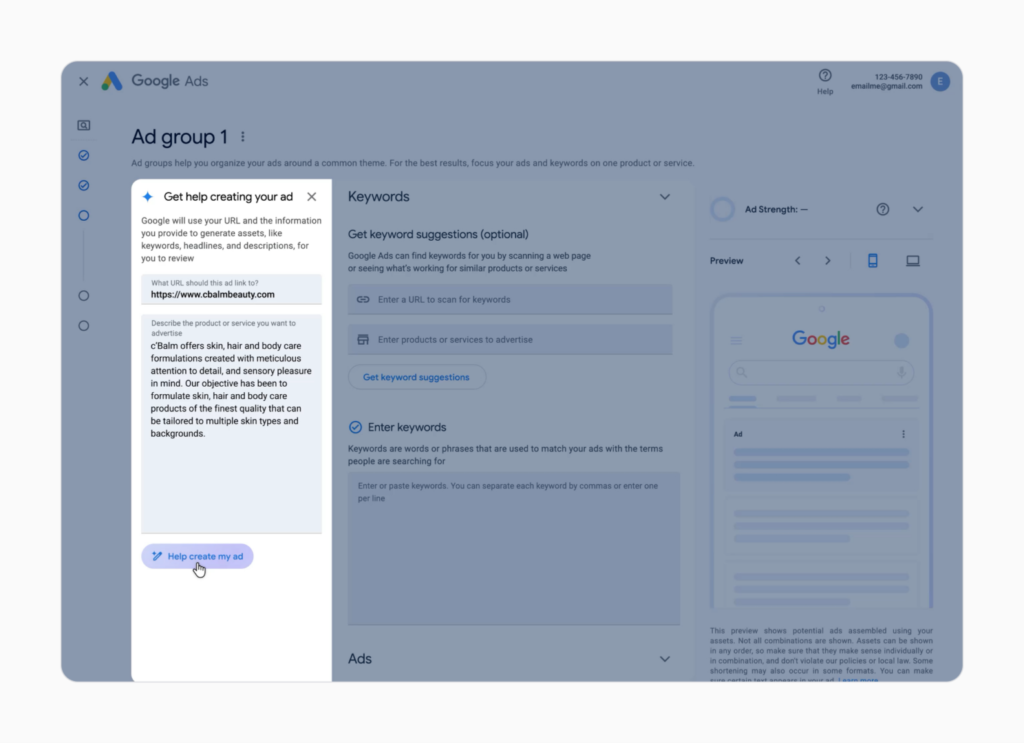 Google will suggest keywords, headlines, descriptions, images and other assets. Advertisers can use the assets and/or prompt the system with further criteria. For example, an advertiser selling office chairs may receive headlines that don't talk enough about the selection. The system can be prompted to write headlines speaking to a wide range of chairs. The campaign process is collaborative between advertisers and AI.
The conversational experience dovetails into Google's new search experience using generative AI. Titled the Search Generative Experience (SGE), search results will be integrated into AI and conversational mode. Though the user experience will differ, Search and Shopping ads will have their place. Ads will be customized for users and integrated into the AI-powered interface. Here is an example Shopping ad integrated into an inquiry for "top hiking backpacks for kids."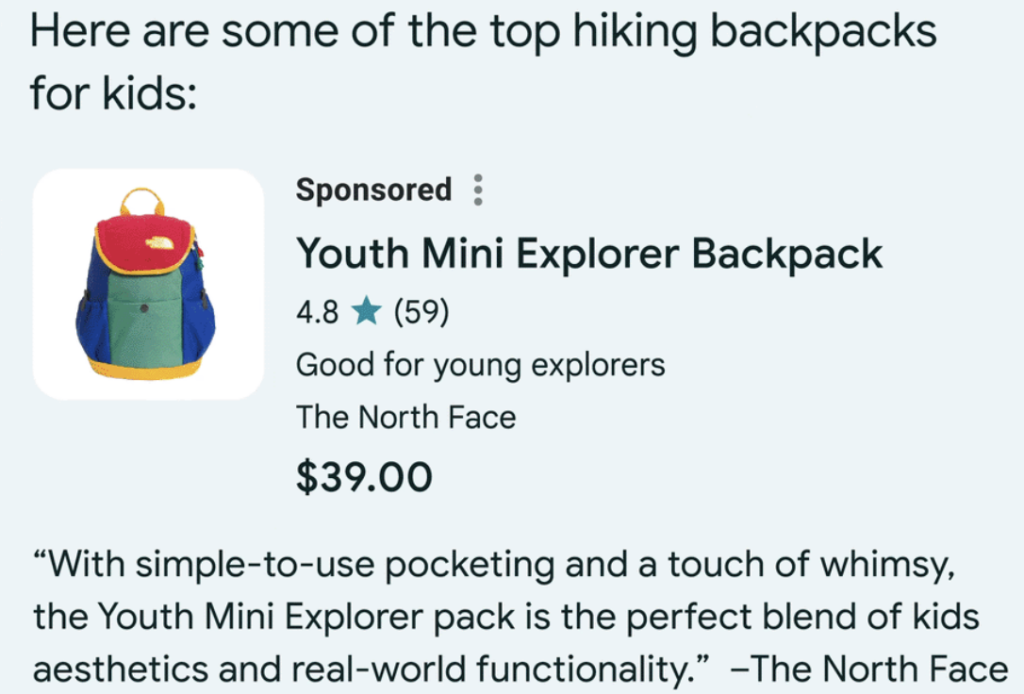 In addition, automatically created assets will become more prominent. Though this feature is already available for Search and Performance Max campaigns, it will utilize generative AI. What this means for advertisers is that as the inquiry becomes more specific, so will the ad. For example, if the user searching for "hiking backpacks for kids" wants to see "red hiking backpacks for kids," assets can change to be of greater relevance to the query.
Rolling out in H2, advertisers can target new customers predicted to show high lifetime value by combining first-party customer lists with AI. Advertisers currently can target only new customers, but not with high-value optimization features. There will also be an option to set re-engagement goals to hit lapsed customers. 
Advertisers will be able to test different Performance Max campaigns against each other as they can with Search experiments. For example, you can test a campaign with the same assets, each with different audience signals. Or, you can have each campaign test a different bid strategy. The existing Performance Max experiments are only for uplift tests. It's a great feature allowing advertisers to test different components of Performance Max campaigns.
Campaign Prefills and Assets
As with Search campaigns, predictive and creation services are coming to Performance Max. With campaign prefills, Google provides asset and budget recommendations when creating and optimizing campaigns. Though Google already provides these suggestions and more, the process is backed by AI. You can also use the conversational experience for new Performance Max assets. Since these ads rely more on visuals than text, Google offers robust images, including stock photos. The assets may not be relevant for some advertisers, but this feature indicates Google's willingness to help with an often underutilized (or unknown) skill of marketers.

Speaking of creative…
Google is making it easier for advertisers to create and share assets through a new tool called Ads Creative Studio. The tool aggregates all assets and gives a checklist of the different sizes and types of assets needed. The hope is that the creative team will also have access to this tool, and it can be a shared resource, streamlining the creation and updates of ad creative.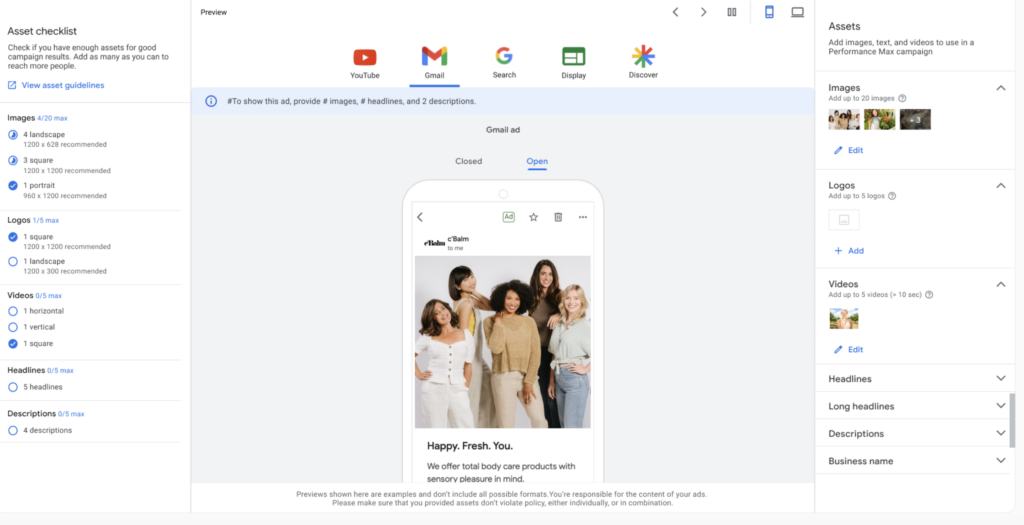 Video has been a major topic at GMLs over the last few years, and this iteration was no different. Video view and demand gen campaigns were introduced as ways to secure more views at a lower cost. Google states that compared to Skippable Instream CPV campaigns, video view campaigns saw 40% more views at a 30% lower cost. View campaigns optimize for maximum views across in-stream, in-feed, and YouTube Shorts.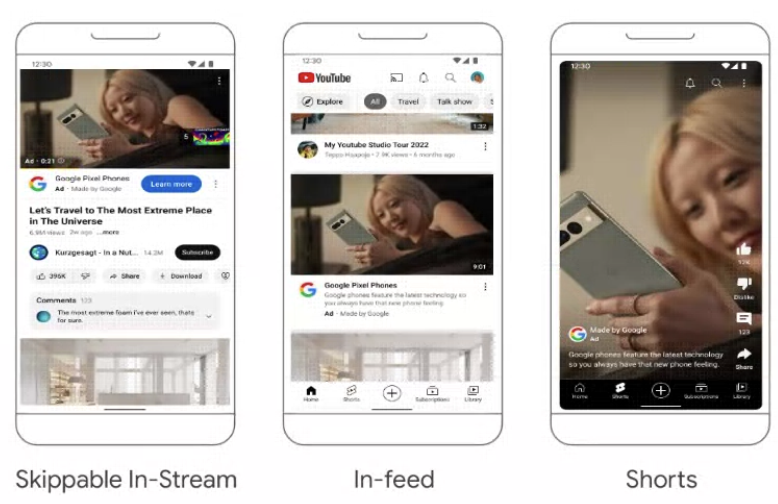 Demand-gen campaigns are being compared to social campaigns as they utilize lookalike audiences and show across most of Google's inventory. Both videos and images can show in these ad formats.
Google Merchant Center will soon become Google Merchant Center Next. In the new platform, advertisers can have Google crawl their sites for products and pull them automatically. This action means that advertisers won't have to submit a product feed. The option to manually submit the feed will still be available. It's unclear how effective a Google pull will be compared to a product feed upload. 
Another new tool is Google Product Studio. Advertisers can submit images and use generative AI to enhance images by way of:
Increased resolution

Background removals and additions

Ancillary creative
These tools will make it easier for advertisers to complete technical and creative tasks. Of course, the results will dictate what entities are most effective.
The new generative AI experience and advertising features will roll out over the remainder of 2023. There are many exciting features to test and learn from. From a holistic perspective, seeing what Google deems important as they build out its product roadmap is beneficial. As always, advertisers should embrace the change while cautiously testing. It's an exciting new chapter in the constantly evolving world of PPC.