When the COVID-19 pandemic made its way to the United States, governing entities told consumers to "stay home and stay safe." While an infinite amount of things in our daily lives were affected because of social distancing, one that got impacted the hardest was the Out of Home Advertising Association of America (OAAA). 
In 2019, OAAA reported that OOH ad spend in the US alone hit a high of $8.6 billion before declining to $6.1 billion (-29%) in 2020 because of pandemic shutdowns. Yet today, US out of home spending has recovered since pre-pandemic levels. In fact, year-to-date revenues are on par with the record-breaking high in 2019. 
The OAAA reported in their latest Revenue report:
The significant growth in the vertical is a clear indication that brands and advertisers are placing value on Digital Out of Home (DOOH) and its benefits.
DOOH, a Strategic Brand Awareness Play
Even before the COVID-19 impact, advertisers have been reluctant to include DOOH advertising in their media plans because of dated assumptions that it is untrackable, untargeted and limited in available inventory. But its time for advertisers to challenges these assumptions and add DOOH back to their media plans now that DSPs have given advertisers complete visibility and control of these buys. 

DOOH is highly measurable and its advanced targeting and placement capabilities make it a strategic solution for brand awareness. That said, there is the right place, time, and budget needed for DOOH. Here are the factors and opportunities brands should consider.
It is critical to set expectations before running a DOOH campaign. DOOH will never be able to be tracked 1:1 with a user and ad simply because of how the media is served. It would be impossible to know precisely every person who was present and physically looked at an ad in a populated environment. Alignment of expectations and goals is always necessary for any new campaign launch but is that much more important for this type of media that is historically known to face challenges with 1:1 measurement. As experts in the space, we have found solutions to showcasing the success of a DOOH campaign.
All major DSPs used for DOOH buying have the typical metrics we always use to measure digital top-of-funnel performance; impressions, cost, reach, etc. Here at Closed Loop, we've chosen Broadsign as our DSP of choice because of their time in the market (almost two decades), required training before gaining access to the UI (Programmatic DOOH 101 certification), and advanced audience offerings that are built from mobile data. Broadsign not only gives us those in-platform metrics but also takes metrics one step further which allows us to do deeper analysis and present our findings in a much more actionable way.
Getting creative with your data and platform is imperative.
"Estimated Impressions" & "Ads Played"
Two valuable metrics within our DSP are "Estimated Impressions" and "Ads Played".  Estimated Impressions are derived from a multiplier created by Broadsign that is defined as "audience, or impressions, = play x impression multiplier". Ads Played is noted as the actual number of times the ad was shown on that one screen. 
In DOOH, a general "Impressions" metric is unreliable because there is no way to accurately track how media is served. Analyzing "Estimated Impressions" and "Ads Played" provide more insightful analyses of locations with higher foot traffic and screens. Knowing where ads are served at a higher rate and with more people around is a great place to increase presence since mass brand awareness is the recommended goal for DOOH.
Combining in-platform offered metrics and in-house data from other channels is a fantastic way to show halo effects of this top-of-funnel media with any lower-funnel media being ran to see the lift DOOH is producing. More often than not, there is a correlation. 
Below is a custom reporting view to showcase all top-of-funnel media impressions mirrored on top of Paid Search brand searches (a bottom-funnel media tactic) with conversions over time to show the influence started by top-of-funnel advertising: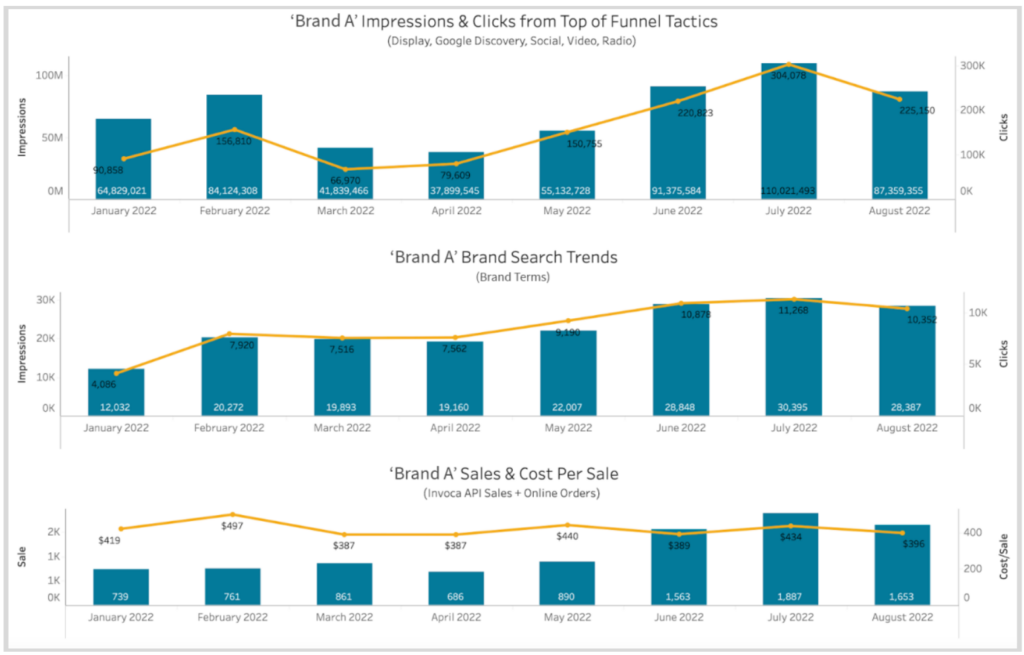 There are partners that specialize in foot traffic measurement that can provide sophisticated location-based insights if analyzing that data type is of interest based on goals. PlaceIQ is reliable partner to measure foot traffic.
At certain spend thresholds, brand lift studies are available via Broadsign's study partners. The designated account manager within the DSP you work out of must facilitate studies, but it is another option for measuring lift and analyzing DOOH impacts across your media mix.
QR codes and/or Vanity URLs featured on DOOH creatives are an easy way to track users who saw your ad and took action to engage. Developing this feature will require additional planning and likely incremental cost. Still, it is another way to gather first-party data to later analyze the campaign's performance and/or use it by uploading the data captured into another channel.
Advancement in the audience targeting space for DOOH has expanded from basic demographics to having almost 200 personas available based on mobile data. Broadsign first compiles audience data based on the screen/venue location, then reverse geocodes that coordinate to start building a venue profile. The first pieces of mobile data analyzed at that location are device IDs, languages, app IDs, age, and gender. From there, more granular and sophisticated targeting becomes available for you to leverage in your buys.
The targeting options now available via DOOH are comparable to many other popular self-serve digital platforms. Outside of age, gender, and income groups, Interest and Activity (Shoppers, Gamers, Home & Garden, and more), Life stages (Business Creation, Family, and Marital status, etc.), and Intent (Home Shoppers, Holiday Shoppers, Travel Shoppers, and more) are personas that can be applied to ensure your ads are showing on screens that have a high presence of this type of user. An additional tool we find extreme value in using is the index scale shown below which allows you to manually slide a scale from 1-10 to be more or less concentrated, depending on if you need to expand or be less restrictive with reach.

Rather than feeling restricted to specific screen locations based on what's available and worried the wrong person is seeing your ads, there are levers we have learned to pull to ensure personalization happens even for this type of media that provides such vast reach.
As digital advertisers, we are all aware of and prepping for the deprecation of the cookie. Luckily, DOOH targeting has never relied on cookies or on tracking a single individual. Now is the time to collect as much first-party data possible for when the deprecation does happen and add other tools like DOOH in your toolbox to thrive in a cookieless world.
Large billboards and transit stations aren't the only verticals OOH placements are limited to anymore. Out of Home locations have expanded over the years, but the additional digital component allows you to strategically place ads in just about any public setting with a digital screen.
New and exciting venues that are available for DOOH activation include Airports, Banks, Electric Charging Stations, Healthcare offices, and many more. If you have research findings that prove certain areas of interest index high for your target, this could be a great place to position your brand and leverage the presence of your ads. Screens in highly populated and competitive areas requiring specific creative specs must be reserved via a private Deal ID to ensure budget minimums are met and creatives fit.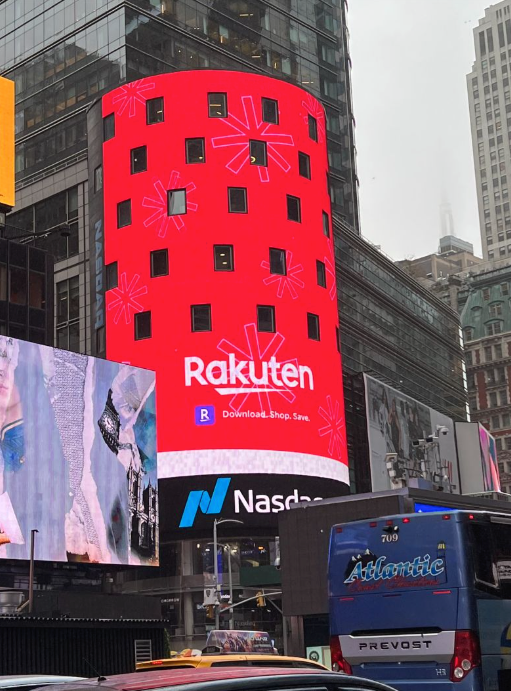 DOOH is a fantastic complement to other top-of-funnel media that may be running. Bought on a CPM model, this tactic can be cheaper than CTV and OTT and provide many of the same benefits.
Measurement solutions outside traditional in-platform metrics are at brands' disposal, including the opportunity to leverage first-party and other channel data to showcase the impact of awareness media on bottom-funnel tactics.