You've taken care to ensure your website aligns to the buyer's journey. But what about your advertising? All too often in our audits, we see general ad copy that has been created with little to no understanding of the Buyer's Journey. But making sure the content of your ads, matches the stage people are in is critical to digital advertising success.
Here's a great graphic from Hubspot that illustrates how the Buyer's Journey typically works: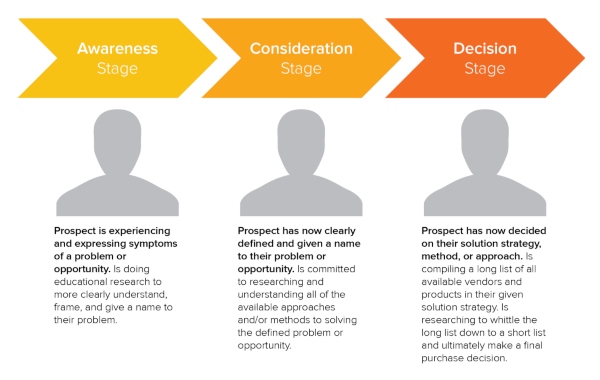 It is commonly said that you need to ensure your ads are benefit-rich or that they hit on pain points. While this is true, there is a nuance here.
Awareness & Consideration: What Will Fix My Pain?
If people are in the awareness or consideration stage, you should focus on benefits/ pain points. You need to make it obvious why someone should click on your ad. Always think – what's in it for them?
You take this approach because people in these earlier stages are aware they have a problem. But they don't know what the solution is. So you use your ads as a means of positioning your product, as the solution to the problems experienced by your target audience.
Suppose you are selling a WordPress plugin designed to improve the loading speed of a website. Let's also consider that the revenue of an e-commerce store can be improved, by improving the loading times of a page.
You are targeting e-commerce store owners who want to improve their revenue numbers, but don't know how. So you should position the plugin as a way to solve this problem. The people you are targeting are typically in the awareness stage.
To do this, you need create ads that highlight the fact that your plugin can help solve their low revenue problems. Do this by creating benefit rich ads or ads that address pain points. In doing so you will be able to gain their attention so that you can sell to them now or at some point later down the line.
Here are some examples of benefit-rich ad copy, that align with the example above:
Improve E-commerce Load Time at the Click of a Button
Increase Ecommerce Revenues with a Faster Website
Reduce Cart Abandonment by Speeding up Your Website
Here is some ad copy that focuses on highlighting pain points:
Is Your E-commerce Store Losing Money Because It Loads Too Slowly?
Are Slow Loading Speeds Hurting Your Revenue?
Your Slow Website Is Turning Away Customers. Here's How You Can Fix the Problem.
Decision Stage: Who is Best?
But when you are targeting people in the 'decision' stage of the Buyer's Journey, you need to focus more on promoting features.
People in the decision stage know what their problem is and what needs to be done to fix it. In this case, people know speeding up their page loading times is a priority. Now they're trying to figure out which offering is best, for this specific problem.
By using your ads to promote features to people in this stage, you can differentiate your offering. You'll, therefore, give people a reason to choose your product instead of a competitor.
Examples of ads that promote features include:
Faster Website Loading Speeds Thanks to Geo-Targeted Servers
Use Our Custom CDN Technology to Improve Your Loading Speeds
The people seeing these ads will likely know of the benefits of these features. But they will not be sure which company offers them. By mentioning these features in your ads, you can engage people who are ready to spend money on a solution like yours.
This can seem complicated. But in short – if you want your ads to succeed, define who exactly you want your ads to be shown to. Then go about creating copy that will resonate with that specific kind of person and the goals that they have.